I mentioned Christmas briefly in my post yesterday but more in passing and in a I-can't-believe-how-fast-it's coming-round kind of way.
Christmas will be strange for us this year.
It will be the first year that we haven't spent any of the day with our families.
Way back at the start of our relationship (in 2000 can you believe?!) I struggled with the festive season as I was living 500 miles away from my family and friends and felt strange about spending the day with Graeme's family. That year, we decided to stay at home in our wee rented flat in the tenements of Glasgow but had a visit from Graeme's mum.
In the years that followed in Scotland we always spent some time with Graeme's family over Christmas and also flew down to Essex to spend time with my family as well.
Looking back - I wish I had taken as many photos then as I do now as it would be great to have a record of those Christmas'.
In the three years we have been in New Zealand, two of our Christmas' were spent with my Dad and last year we flew back to the UK for Christmas.
So this year feels quite strange. Not bad but strange.
We have had a busy year and I think it will be good for us both to have some time together at home to relax and recharge our batteries. We already have a lot planned for next year (not least getting married...
finally!)
so it will be good to take some time out and talk about what we want to do and how we want to do it.
And who knows what our future Christmas' will be like. I imagine next years will be low key rather like this year but after that anything could happen....!
So seeing how I am currently obsessed with taking photos and documenting my life I thought taking
this class
would be an awesome idea! It will be interesting to look back in years to come at exactly what we did with ourselves over the festive season.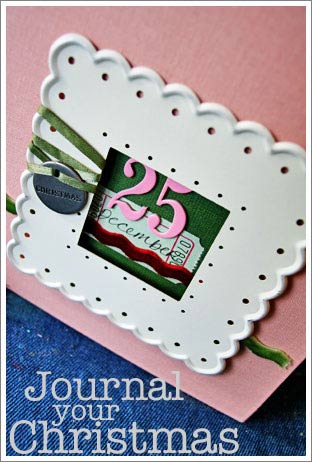 I'm really quite excited as I am using this class as the opportunity to introduce festivities into our lives....I have already a few decorations (we haven't had a Christmas tree the whole time we have been in NZ but I had some rather festive looking twigs one year which I will be reusing this year!) but have gradually been buying a few more over the last few weeks.
I have made a head start on my Christmas journal so I am all ready to go and I will hopefully get round to posting some more photos of it on this blog as I go along.

So watch this space...the class starts next Monday and I am hoping that despite a busy couple of weeks I will be able to keep up and come out on the 6th January with 37 journal entries all prettied up with festive paper and photos!